Monday, October 24, 2005
My mommy as a South Park character
I've finished my homework for the night, not all of it, obviously, but the most important stuff. In my boredom, I made a South Park character of my mother. She's clearly singing a lengthy aria in an opera that involves pirates in some way. Enjoy!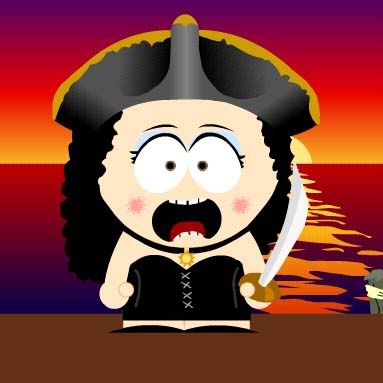 |
Sunday, October 23, 2005
A banged up knee
Ahhhh! The joys of Bond shots! After much drunkenness at Tom's while watching
Diamonds Are Forever
, we all went to Ryan's and Oliver gave me a piggy-back ride. He tripped, fell and I fell too. Apparently, I'd hit my knee on the cement sidewalk, but I didn't notice right away. It was only after I'd passed out on Ryan's couch later that I saw the full extent of the damage. Here's a picture of what it looked like this morning. It actually looks worse in real life, but I think that the picture gives you a good idea. Yay for digital cameras!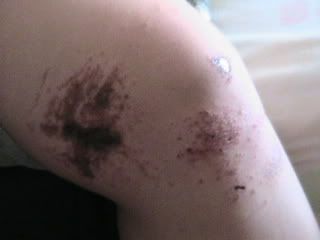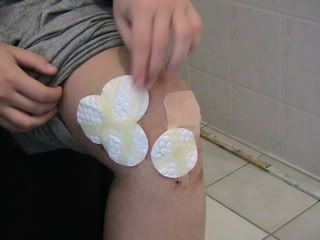 The above photo is of my brother's patching up job. It worked well enough exept the cotton got stuck in the wound. Oh well. It's the thought that counts.
|
Saturday, October 22, 2005
Buoyed by new boots.
The waters have receded in Lennoxville and all is well with the world. Or at least, with this part of the world. I'm sure there are lots of problems with other places in the world, and I would have but to look at the newspaper to know all about them, but I'm happy in my ignorance. That being said, I have a lot to be happy about. First of all, I got extensions on two of my assignments because of that day we missed because of the flood. Second of all, my army boots, which I bought specifically for my Halloween costume, arrived yesterday and they fit perfectly. I love how they look too. This is a picture of them:
I also went to the Lennoxville Curling Club last night to watch Sam play with Tom, Tom's sister and another guy whom I don't know, and his team just barely lost, which was just as well because they would have had to have played at 8:30 the next morning and the winning team always buys the losing team drinks. Speaking of drinks, I got quite pleasantly drunk last night. The curling club has a very nice bar and Josee ended up giving me two drinks, a black russian that she bought me and a glass of sherry that she'd bought for herself, but didn't like. It was a fun fun night. I may be up for Bond shots tonight, but it all depends on how much more time I spend on the computer not studying. Heh... I should get to that.
|
Monday, October 17, 2005
LENNOXVILLE IS FLOODED!!!
Here are some pictures of the flood at the junction of the St-Francis and Massawippi rivers right at Bishop's University. I wish I could have seen the other side of the Massawippi bridge, but it was completely blocked, even for pedestrians.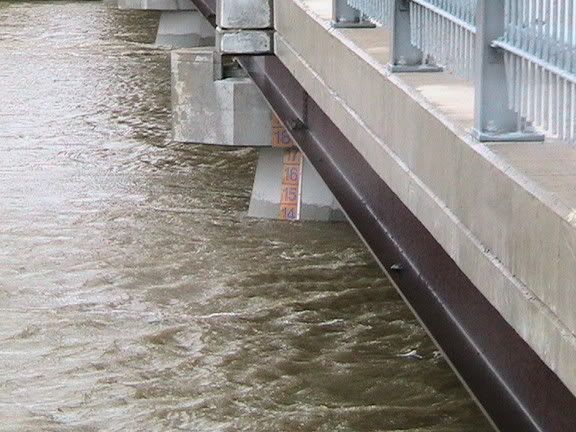 This is the height of the St. Francis river.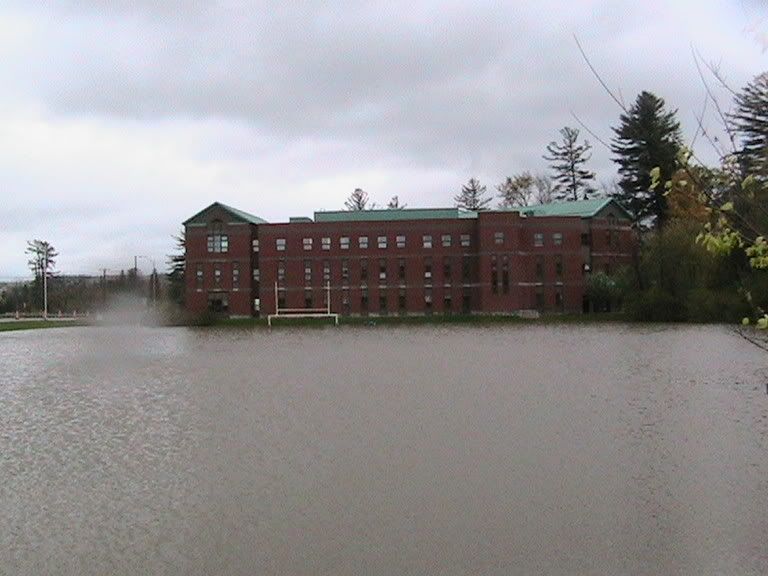 The football field behind Champlain Regional College. I think it's flooded with at least four feet of water.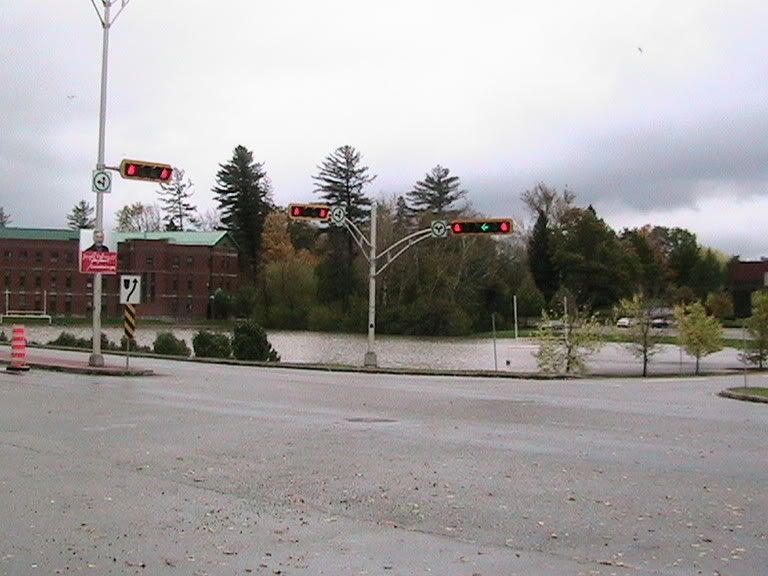 Another view of the Champlain football field.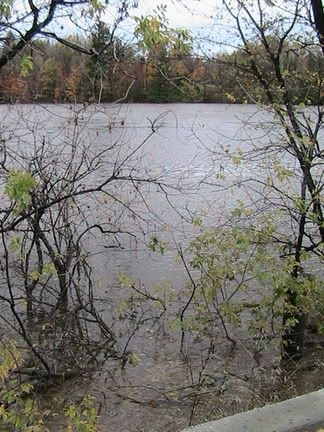 The mighty St-Francis.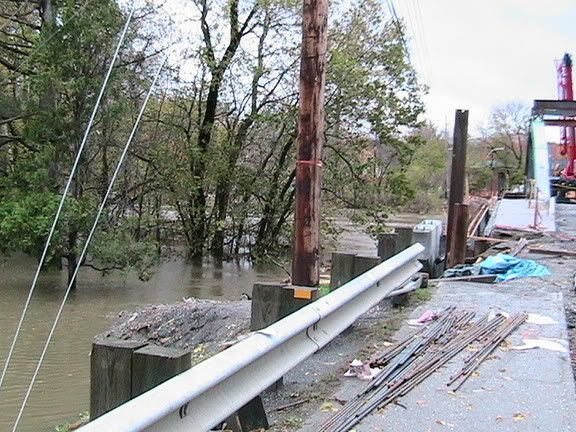 At the Massawippi bridge, where construction was going on.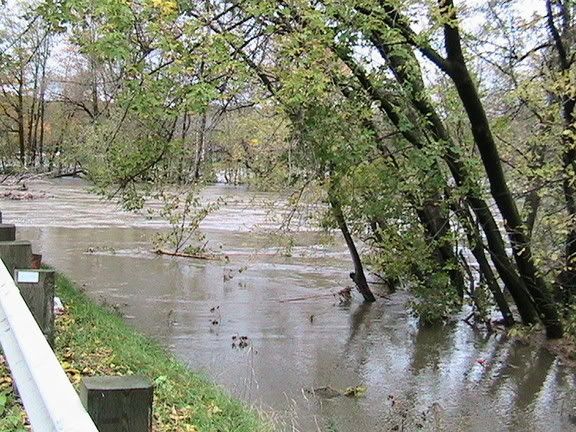 The other side of the Massawippi bridge.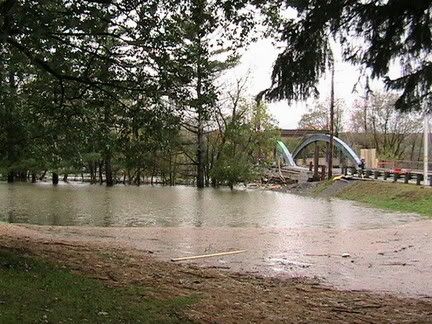 A field next to river on campus.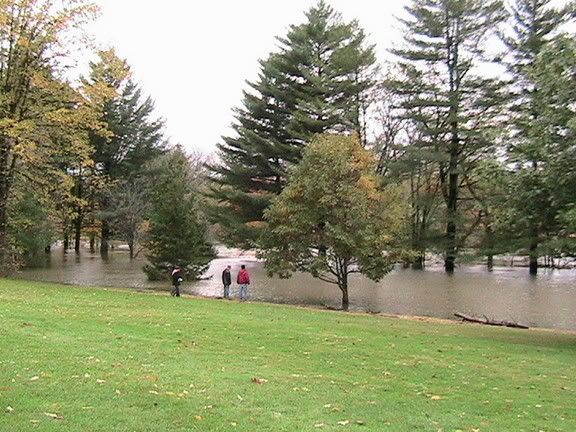 That same field, notice the river is just behind those trees.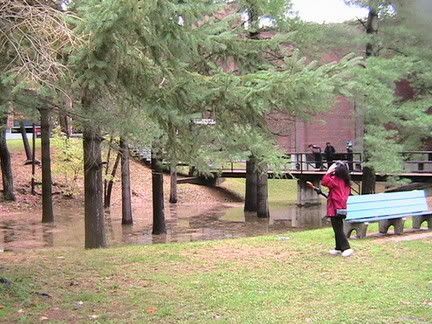 Mom in front of a little wooded area next to Centennial theater.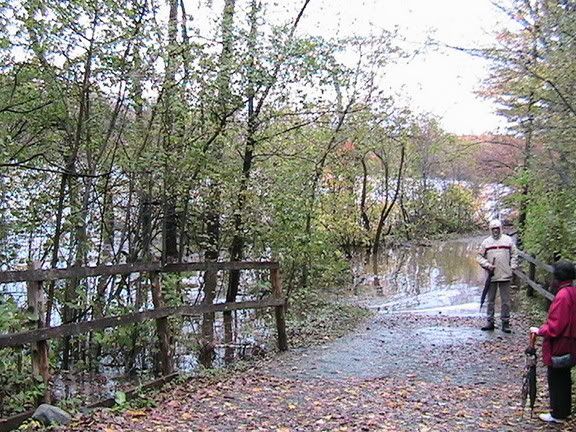 Mom and Dad on the bike path that follows the St-Francis.

Apparently, we were also on the weather channel and when I went down with my parents, there were news crews there. Needless to say, school was cancelled and I don't know if it will be happening tomorrow. It's supposed to rain more, but I hope that it won't be as much as over the last two days...
|
Saturday, October 15, 2005
A rad blues concert
As most of you probably already know, my parents are crazy. On a completely unrelated topic, they're also performing a blues concert with some other profs from our quaint little university. The repertoire seems to be shaping up and it's probably going to be a great show unless something disastrous happens in the meantime like a sudden death or my dad's nail breaking or something. I was recruited to make the poster and by my standards, it's pretty decent. Here it is (click on it to enlarge):
Other than that, my mother is giving a recital tonight in a big echoey cathedral and it should be fantabulous because she always is. Hopefully the band will be giving a show soon too, but you never know with us...
|
Tuesday, October 11, 2005
Back from yet another trip...
Before I start about my last trip, I just wanted to note that it's been seven months today that Sam and I have been going out. Go us!
Ok, so yesterday, at approximately six o'clock in the evening, my family and I returned from a four-day long trip to Ontario for Thanksgiving. We left early Friday morning, after I had spent an hour trying to put music on my mp3 player, only to finally screw up the memory card. The drive was long, but we stopped near Ottawa to see Oskar Graf, who made one of my Dad's many guitars, and had to do a small repair. We finally arrived at my Savta's house (that's my maternal grandmother) in Toronto at nine o'clock in the evening. The next day, we went shopping at the (ginormous) Yorkdale mall where I bought Black Seal rum for Sam and some amaretto for me.

That afternoon, we drove to my paternal grandparents' place in Guelph with my Savta, arriving just in time for dinner. My grandmother then proceeded to feed us... a lot. We then went to visit my aunt and uncle in Cambridge, where my uncle and my dad jammed all night, my dad playing yet another electric guitar he bought in Toronto, this time a Gibson SG. That night, all us guests slept in the living room, with the exception of Savta who got the guest room, my parents on an air mattress (much to my mother's distress) and Cam and I on the sofas. I had a dream about Etienne that night, where he had to do a take-home test and he gave it to me so I could give him the answers. Then, I emailed them to him and he handed in a printed form of that email as his answer sheet and proceeded to get a "G" in that class. I think he was wearing a furry colourful coat... very out of character.

The next day, Sunday, was to be the day of the feast. My mother and I wandered around Guelph, finally arriving at a rather "hickish" strip mall and I bought a skirt and a belt. In order to make things easier for herself, my grandmother decided to have two Thanksgiving dinners, one with my family, Savta and my uncle who lives with them, and another with the other relatives. That sort of sucked for us because we didn't get to see all our relatives even after that long drive. Anyway, lots of turkey was to be had and everything was delicious. We returned to Toronto that evening and Savta and I stood around the kitchen, drinking chocolate liqueur and talking about all the times we'd been drunk. The next day, that is, yesterday, we drove back here and I slept for most of the trip.

And what do I have to be thankful for? My grandparents are still in relatively good health, I got to see at least some of my relatives and this was the last trip of the year...
|
Monday, October 03, 2005
The main website page?
I have recently completed what may be the main page for the Doppelgänger Effekt website. I think that Etienne likes it, and everyone else I've showed it to seems to think it's ok, but for those of you who haven't seen it yet... Etienne also informes me that he knows how to animate it now. That'll make it a lot better. (Happy happy happy)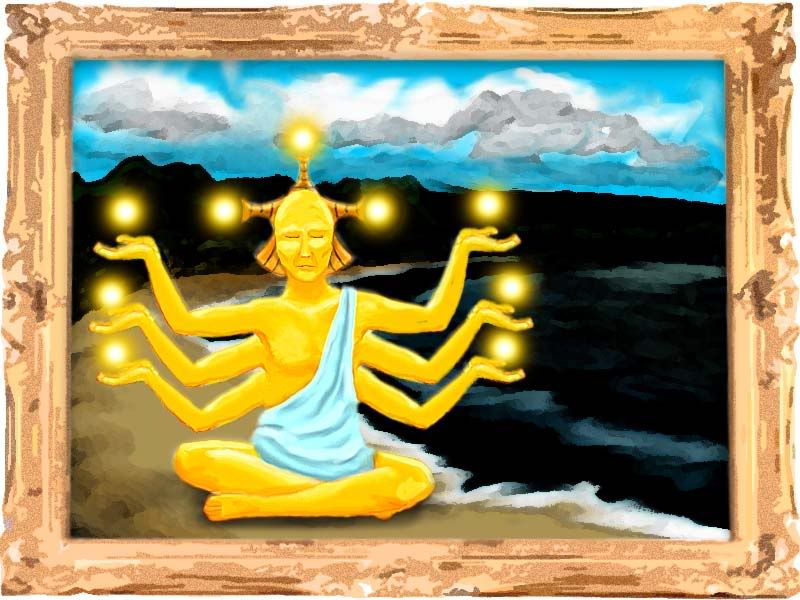 Click on the small image to enlarge.
|